Introducing to meditation
Meditation by the sea, or anywhere; a pure form of art that lets your spirit grow, has been pretty popular in the last few years. And, to be honest, it was expected, since this technique is known to everyone. The reason why it isn't even more popular lies in the fact that people don't know where to start. It's hard to imagine the concept of it to some people, but once you get started, it's really easy to do.
However, there is one thing that can help a certain amount. Music.
Music for Stress Relief
Believe it or not, it's much easier to focus on meditating when there is a slight melody whispering rhythms into your ear. Many people think that this will distract them like sometimes regular noises do, but it won't.
How does this meditation work, you might be wondering? Well, meditation music is just something that helps you with any regular type of meditation (mindful meditation, body scan meditation, breathing meditation) so you can use it with your favorite meditation without any doubts. 🙂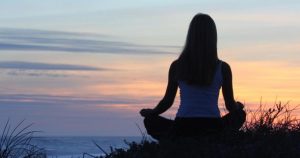 There are many different types of music for stress relief, and most of them are some types of piano music. Why? Well, the piano is not one of the most popular instruments in the world for no reason, it is actually great for relaxing and stress relief meditation.
Piano relaxing Music
Piano music is known to be very popular ever since famous composers started to make their musical compositions. If you are a fan of classic work of one of the few most famous composers like Beethoven, Bach, Vivaldi and so on, you will love a good piano instrumental.
There is something about the peaceful sound of the piano that helps people relax, maintains their breathing pattern and even slows up their heartbeat. Haven't you already heard that babies like to listen to relaxing piano music when they are in the womb? It calms all humans.
But, if you get easily bored, you might think to yourself that this will soon become a routine, and you will quit in order to find something more interesting to do. Well, our friends, we have prepared something special for you on our YouTube channel.
Meditation by the Sea
Almost everyone loves summer vacation and the things we correlate with the summer the most is, of course, the sea. We bet you have been on a beautiful beach, laying down, being sprinkled with the rays of sunshine, feeling all warm and cozy, and then suddenly got wet with the water from the sea after a big wave comes in and it feels like the most refreshing feeling ever. Familiar? No?
Well, if you aren't all about this experience, we are offering you a similar one that you can revisit every day, at home.
Meditation by the sea is a great thing, but most of us can't really live by the sea all days of the year, right? That's why there is a full HD video of stress relief music with sea visuals on our channel!  With this video, we are introducing you to a whole new category…
A Desert Island Meditation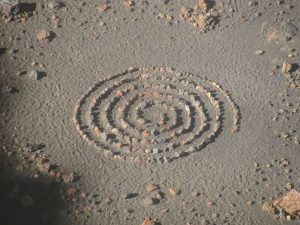 Have you ever wondered what it is like to live on a desert island? The climate, the peace, the beautiful sounds of birds chirping, waves rushing into the coast and the wind blowing.
But, would you really live on a desert island? Yeah, we thought so. Don't worry; we have a treat for you that will solve this problem.
Our new category is all about meditation by the sea, on a desert island, to be more specific.
In this category, we will post many videos which will include the beautiful visuals of a seaside, a beautiful coast full of small rocks that look like gems, with turquoise waves flowing over them. This amazing scenes is relaxing on its own and doesn't even need music, but when combined, your two senses will be overwhelmed with relaxation.
A desert island meditation probably isn't what you thought you'd be doing this morning, but when you open the full HD video song, you will be more than pleased to revisit it daily.
We are not going to reveal where this island is, but we can give you a clue. It's in the Mediterranean Sea. The rest is up to you to guess. Where do you think this desert island is? 🙂
The desert island meditation, along with other music by the sea, can be found on our YouTube channel which you can visit by browsing the meditation video.
Have you yet found your inner peace? Are you still learning to? Feel free to browse around our site to find the best meditation music that will help you ease into the habit of clearing your mind and relaxing your soul. 🙂
Mahatma
for Meditation-music.net